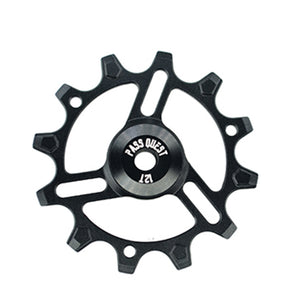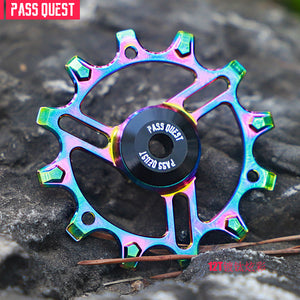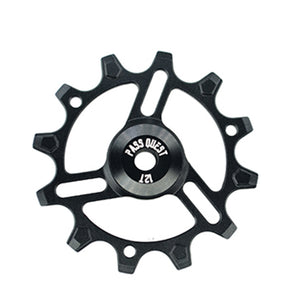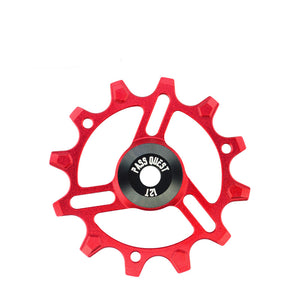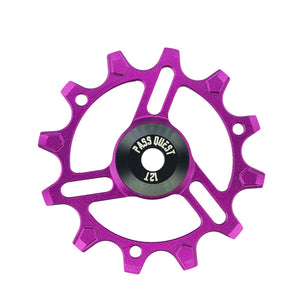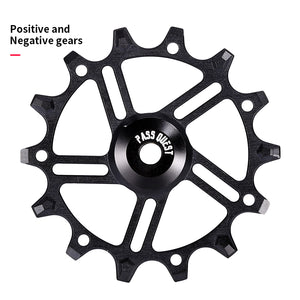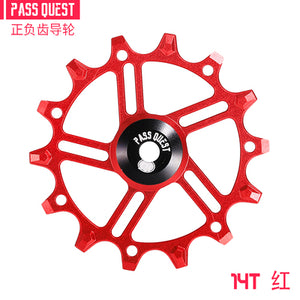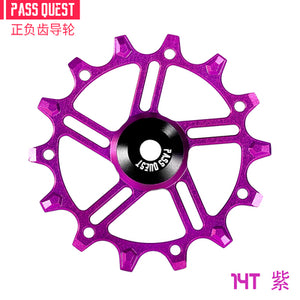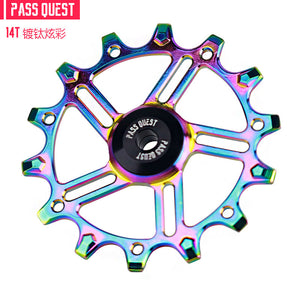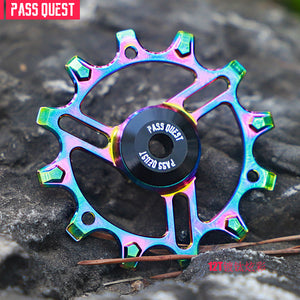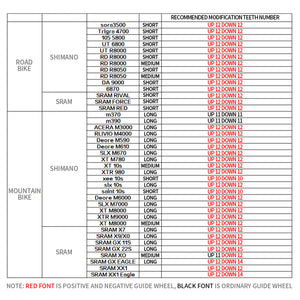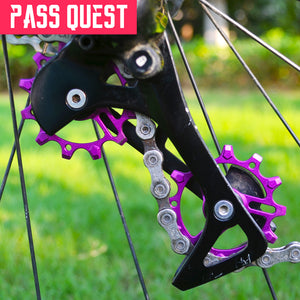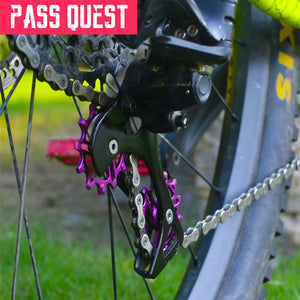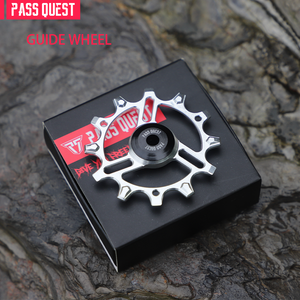 | | |
| --- | --- |
| Model | 12T or 14T  |
| Colour | Black  or Red or Titanium plated colorful |
| Made from | 7075-T651 Aluminum Alloy |
| Surface coating | Anodizing |
| Made with | CNC milling |
| Aperture | 5mm (14T will give away a 6mm end cap) |
| Weight, grams | 9.5(12T),  10.5 (14T). |
| Chain compatibility | Standard 9/10/11/12 speed is available, sram axs cannot |
 Bicycle shop or dealer contact customer service
                     PASS QUEST GEAR
1. It is recommended to change the number of guide wheels from small to large.
2. If you don't know the type of rear wheel tie rod. Remove the rail Wheeland measures whether the TICKNESSSIS 8MM fastening screws. It is appropriate to replace the original 11T or 13T with 12T positive and negative toothed guide wheels. but. We should watch out for the confusing limitations of the original 11T. If SOME.12T cannot be installed
3. It is recommended to install 12 T negative guide rails on the top and bottom of the mountain bike.
4. It is recommended to modify 12T road vehicles, but it must be backed up
5. TEREISALIMIT about the size of the guide wheel after installing the pulley. If there is no bezel, attention should be paid to the size.
6. The positive and negative rails should be better installed.
Quality finish
Installed both the front ring and the jockeywheels; both had a good fit and finish. Shipping was decently quick as well; packaging was fine👌
PASS QUEST Bike Jockey Wheel Narrow Wide Tooth Derailleur Pulley Plastic Resin POM Gear Guide Roller 12T/14TRoad MTB Bike Derailleur
PASS QUEST Bike Jockey Wheel Narrow Wide Tooth Derailleur Pulley Plastic Resin POM Gear Guide Roller 12T/14TRoad MTB Bike Derailleur